---
Yak's 50th birthday
20-February-98


Under the assumption that we live only once I thought to mark this sad milestone with the most fabulous wine and dine experience imaginable.
Unfortunately 1948 - my birth-year - was not a particularly fine vintage in France and, with the exception of Vintage Port, was not a good year anywhere else. As a consequence I decided to serve - along a 'Grand Dinner' - the best attainable wines from the best available vintages representing the grandest wine regions. I have been collecting wines for this event for a couple of years now.
A while ago I approached the very best Chef in Israel (at least IMNSHO) and coaxed him into preparing this feast for us. The bright yet modest young Yontan Rochfeld agreed and performed a true miracle by creating a seven-course dinner for ten people around these sacred juices. A dinner that stood up to - but did not overshadow - the great wines.
So, on Friday evening, eight of our closest wine-loving friends reported for duty. The magnificent dinner lasted for five hours and there was not one among us who have not claimed this to be his/her most fantastic wine & dine experience ever.
Chef Rochfeld used the very best and fresh ingredients: langoustines from New-Zealand, live lobsters from Main, corn-fed pigeons flown in from France and more... He took two days to prepare things at his home and on Friday worked for eight hours in our kitchen...
Words cannot do justice to the wonderful result. The appearance, the taste and above of all - the harmony with the wines were non plus ultra!

All I can do here is produce the menu and describe the wines. You'll have to use your utmost drooling faculties to imagine how beautiful it all turned out.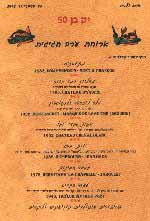 The original menu (those who can read Hebrew click to see full-size)

Appetizers
Grilled scallop in balsamic vinegar served on a shell
Fresh Portuguese anchovy served on bed of thinly diced tomatoes
1985 Dom Perignon
******
Medallions of Foie Gras
Marinated in coarse salt and sweet spices
1986 Chateau d'Yquem
******
Langoustines and Lobster salad
Delicately coated langoustines in lobster and dry-vermouth stock, together with lobster salad in its own cream
1992 Montrachet - Marquis de Laguiche (Drouhin)
******
Sweetbread Nuts
Wholly roasted with a variety of roots, served sliced in its own juices over the diced roots
1982 Chateau Cheval Blanc
******
'Bresse' Pigeon
Perfumed in red wine. The legs served as 'confit' and the breasts roasted. Served with 'Cep' mushroom risotto
1985 Richebourg - Jean Gros
******
Cheese selection
The best Israeli cheese available
1978 Hermitage 'La Chapelle' - Jaboulet
******
Almond Tart with wine-roasted pear
Served on light honey sauce with fresh vanilla-seeds ice-cream
1948 Vintage Port - Taylor
******
Petits-fours and Chocolates
X.O Cognacs and Liqueurs

Now for the wines. I must admit I was a bit tensed. After all I had only one bottle of each, and although they all looked (externally) beautiful, one can never know, especially with older bottles. Happily, my slight anxiety was groundless. All the wines proved to be in absolutely perfect condition.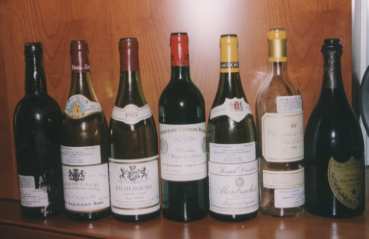 '48 Taylor, '78 Hermitage, '85 Richebourg, '82 Cheval Blanc, '92 Montrachet, '86 Yquem, '85 Dom Perignon
---
Dom Perignon			      1985	Moet-Chandon

2/98. Acquired from London Sep-95 for $85 (imported for $95 net).
Clear straw yellow. Very beautiful steady stream of tiny bubbles emerging like a fountain from the base of the glass. The most enticing creamy bouquet imaginable. First and foremost the nose is that of a great wine! In spite of it being 13 years old, the wine smells fresh and fruity with more mature layers revealing themselves behind the fruit. Both elegant and mouth-filling on the palate. Stood up to and complimented very well the slightly piquant appetizers.
Beautifully balanced and perfectly poised. Extraordinary!!
MARK: 19/20.aaaaaaaaBUY MORE? Yes.

---
Chateau d'Yquem			   1986		Sauternes

2/98. Acquired in auction Aug-95 for $165 (imported for $177 net).
Exquisite color of pure gold. Fat and viscous even by the looks alone. Unbelievable myriad of aromas on the nose! Peaches, lemon, toasted almonds, spices - all and more are there. On the palate this wine is so rich, deep and full of flavors beyond words. Sweet of course, but with such a good acidity to balance that it is not in a bit cloying. Endless length and full bodied, a giant wearing silk gloves. The combination of wonderful foie gras with the Yquem gave new meaning to the word harmony.
This must be the ultimate nectar! Divine!!!
MARK: 20/20.aaaaaaaaBUY MORE? Yes.

---
Montrachet (Laguiche)		1992	J. Drouhin

2/98. Acquired in auction Jan-97 for $180 (imported for $206 net).
Tough act for any white wine to follow the Ch. d'Yquem, but the Montrachet also had (paler) golden color. Very concentrated nose of minerals, apples and toasted almonds. Very elegant and multi-layered on the palate, though this wine was obviously too young. Still somewhat reserved and long way from maturity, the king of dry whites stood proudly to the heavenly dish of lobsters and langoustines.
Just short of full blossom but still superb
MARK: 18.5/20.aaaaaaaaBUY MORE? Maybe.

---
Chateau Cheval Blanc		1982	St. Emilion

2/98. Acquired in auction Feb-95 for $260 (imported for $281 net).
Deep dark violet-red, with no clearing around the rim! Immense aromas of rich black forest fruits and wild flowers beautifully balanced by bouquet of spices, wood and vanilla. So rich and concentrated on the palate that it is harder to imagine a wine with more 'winyness' to it! Super long, full bodied, viscous and perfectly balanced. Again, I cannot think of a better harmonious combination than this rich and beautiful wine with the equally rich but unimposing sweetbread dish.
Perhaps not as great as I would expected, but by far the best Bordeaux I ever had! Superb
MARK: 18.5/20.aaaaaaaaBUY MORE? You must be kidding ($650 per bottle being the current market price).

---
Richebourg				1985	Jean Gros

2/98. Acquired in auction Jan-97 for $190 (imported for $216 net).
Of all the wines served, this Richebourg is the only one I have tasted before. Sandwiched between the two giants, the '82 Cheval Blanc and the '78 Hermitage (see below), this beautiful and exalted Richebourg proudly demonstrated the difference between a great (B) and other great wine regions. Where power and body are the hallmark elsewhere, it is delicacy and complexity that sings here. Palish red with noticeable clearing around the rim. Perfectly mature on the nose and the palate. Enticing 'Bourgogne Nose' and red fruit. Sweetish mature fruit in the mouth. Complex long aftertaste. Very finely balanced. Again, a perfect match to the mildly cooked pigeon.
Exquisite (B) if there ever was one. Extraordinary!!
MARK: 19/20.aaaaaaaaBUY MORE? Maybe.

---
Hermitage 'La Chapelle'		1978	Jaboulet

2/98. Acquired in auction July-97 for $320 (imported for $330 net).
Dark and youthful looking as only a great Rhone can be. Similar in many respects to the Cheval Blanc yet a totally different wine. Unbelievable powerful (clean!) nose. Massive, deep and slightly sweetish aromas of every imaginable black fruit and spice. Super concentrated on the palate with fully integrated flavors. A true monster of wine in the best sense of the word. Infinitely long and supremely balanced. Even enriched the very rich and poignant cheese selection!
A wine to cry for, a wine to die for, a wine to live for! Absolutely divine!!!
MARK: 20/20.aaaaaaaaBUY MORE? Hope I could afford to but afraid I can't.

---
Vintage Port				1948	Taylor

2/98. Received as present. Thank you pal!!!
I stood the bottle 48 hours in advance, so the ton of sediment all settled on the bottom. Of all the wines, the Port was the only one we decanted about four hours before serving. Looming dark in the decanter and remaining pure dark when poured into glasses. Immense nose of sweet cocoa, oranges(!), black fruit and vanilla. Unlike anything I have experienced before. Totally captivating. Sweet on the palate though far from cloying, with healthy acidity and complex flavors to add ever-changing tones. Full bodied of course yet almost ethery in delicacy. Harmoniously complimented the simple (comparatively) almond tart dessert.
A real once-in-a-lifetime masterpiece. Everyone should taste this nectar at least once! Divine!!!
MARK: 20/20.aaaaaaaaBUY MORE? Again, I wish I could.

---
Reach Me?

yak@yakshaya.com
---
Copyright 1996-2003.
Jacob "Yak" Shaya.