---
PICTURES * All dishes have pictures "behind" them!! * PICTURES

Ligature Annual Dinner #7
14-May-99

After a lapse of one year, we resumed the tradition of having an annual dinner at our home for my dear partners and their spouses - the founders of Ligature, our beloved company.
There were nine of us altogether. We all know each other for years and in many ways feel like a family. This of course did not prevent heated discussions and predictions as to the outcome of the coming elections in Israel (not that anyone among us was going to vote for this viper Bibi...).


| | | |
| --- | --- | --- |
| My dear friend Eran | Gideon, our unflagging CEO | Noam & Liad |
| Bracha, Gideon's mother | Narda, Gideon's better half | Zvi, Gideon's father |

As usual, Dorit prepared a spectacular dinner. The wines were good, the atmosphere cosy, the hope for a new dawn for Israel (nourished by the latest polls) on the rise. All that contributed to a perfect evening where we all enjoyed the food, the wines and the company.



Marinated Shrimps on a bed of melon, prosciutto and snow peas
1995 Pinot Gris 'Clos Windsbuhl', Zind-Humbrecht
______
Truffled Cheese Tartelette
1988 Clos de la Roche, Dom. Dujac
______
Osso Bucco and Risotto
1988 Tignanello, Antinori
______
Berries Tarte
1989 Pinot Gris 'Clos Windsbuhl' Vendange Tardive, Zind-Humbrecht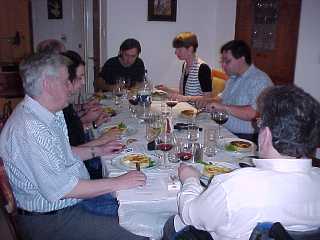 A bit crowded around our small dinner table, but no doubt worth it
---
Pinot Gris 'Clos Windsbuhl'	1995	Zind-Humbrecht

5/99. Acquired at auction Nov-97 for $65 (imported for $85 net).
The third time I have this very special wine, and this time it was better than ever!
COLOR: Medium gold with a greenish tint. Looks fat and rich.
NOSE: Profound and totally captivating nose of various minerals, white northern fruits and flowers. Immensely aromatic with just a hint of honey.
TASTE: Rich and very supple on the palate. Concentrated as promised by the nose. Not completely dry, though certainly not sweet. Fat complex mouthfilling and chewy. Could use a bit more freshness though. A great pairing with the marinated shrimps
LENGTH: Intense finish that lasts forever.
TEXTURE & BALANCE: As full bodied as a medium-dry Alsatian can get (and then some...). Plenty of winyness and complex constitution. Lacks somewhat in acidity, but compensate with rich, creamy texture and taste.
OVERALL: Superb-plus! A class of its own in Alsace wines.

| | |
| --- | --- |
| MARK: 18.5/20. | BUY MORE? Yes. |
---
Clos de la Roche		1988	Dom. Dujac

5/99. Acquired at auction May-96 for $62 (imported for $78 net).
My favorite Morey-St. Denis Grand Cru from the reputable Domaine Dujac. I have had this wine before and found it to be inconsistent. One time barely 'excellent' and another time 'superb'...
COLOR: Medium-light (B) color, noticeable clearing towards the rim.
NOSE: Quite forward and yielding. Accentuated heavy-type 'Bourgogne Nose' that partially masked the ripe fruity aromas. Complex but charmless elements of leather, wet earth etc.
TASTE: Rather better on the palate, with delicate flavors that spanned from dried plums to ethery tropical fruits. Not particularly concentrated and lacked the usual grip of this vineyard and vintage. Still very tasty and special. Incidentally, the 'barnyard' elements nicely counterbalanced with the distinct truffles scent of the cheese pastry.
LENGTH: Short to medium but pleasant aftertaste.
TEXTURE & BALANCE: Medium bodied (B) where elegance and delicacy (of the taste, not the nose!) take precedence over structure and grip. Quite well balanced though and fully mature now.
OVERALL: Excellent-plus. Although a good and interesting wine in absolute terms, a bit of a let-down considering the vineyard, vintage and the producer.

| | |
| --- | --- |
| MARK: 17.5/20. | BUY MORE? Maybe. |
---
Tignanello				1988	Antinori

5/99. Acquired at auction Oct-98 for $120 (imported for $140 net).
My first taste of this famous Tuscan wine. The wine that started the Italian rebellion against the frozen appellation rules. A 'Vino di Tavola' that paved the way for itself and other 'Super Tuscans' to be internationally applauded with or without the DOC or DOCG pedigree.
COLOR: Medium-dark ruby, very slight clearing around the rim.
NOSE: Rich and expensive aromas of black and red forest fruits, supported by wood elements that add depth and complexity to the fantastic nose.
TASTE: Mouthfilling with excellent fruit, plenty of winyness and wonderful grip. Multidimensional and unlike any other wine I can think of. Some hard tannins are still masking some of the more subtle flavors though. Wonderfully complimented the rich Osso Bucco.
LENGTH: Long aftertaste that is a bit dominated by tannins.
TEXTURE & BALANCE: Medium-full bodied wine of great style and expression. Very concentrated and well-structured. Everything in place there, just waiting for the tannins to subside. Once they do this is going to be an extraordinary wine!.
OVERALL: Superb! Needs a few more years to reveal all that it has.

| | |
| --- | --- |
| MARK: 18/20. | BUY MORE? Yes. |
---
Pinot Gris 'Clos Windsbuhl' VT		1989	Zind-Humbrecht

5/99. Acquired at auction Oct-97 for $95 (imported for $115 net).
I thought it would be interesting to have the last wine of the evening the same as the first one, only this time the 'Vendange Tardive' (Late Harvest) version.
Matching a 'dessert' wine with a real dessert is something we rarely do. I usually prefer the contrast between a salty dish like foie gras and the richness of great sweet wines. This here was an experiment. One that I don't think will sway me from my old proven idea...
COLOR: Full golden color, without the green tint of the regular cuvee.
NOSE: Somewhat less extravagant nose than the 1995 regular. Yet pronounced honey aromas together with fresh citrucy elements. Delicately perfumed and absolutely enticing.
TASTE: Sweet of course, but not as rich and mouthfilling as I expected. More refreshing and delicate than the regular(!) with multiple flavors and extremely fine constitution.
Somehow the match between the fantastic berries tart and the wine was not made in heaven... In my opinion, this particular wine should be drank on its own, or perhaps with a bunch of grapes on the side.
LENGTH: Medium long and flavorful aftertaste.
TEXTURE & BALANCE: Felt lighter than the regular cuvee. Very elegant with clean sweetness and wonderful balance.
OVERALL: Superb! Quite different from the regular cuvee and fantastic in its own way, though not really in the same class as the great SGNs I adore.

| | |
| --- | --- |
| MARK: 18/20. | BUY MORE? Yes. |
---
Reach Me?

yak@yakshaya.com
---
Copyright 1996-2003.
Jacob "Yak" Shaya.