---
PICTURES * All underlined text has pictures "behind" it!! * PICTURES

Gidleigh Park Wine & Dine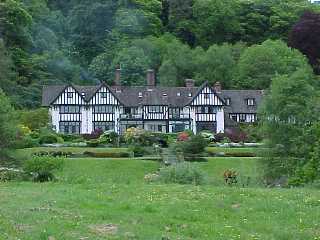 23-25/May/99

Three days of classic vacation spent at the wonderful Gidleigh Park, the exquisite country hotel in Devon, England, owned by the perfectionists Paul & Kay Henderson.
This is the second time we stay at this delightful place. The beautifully appointed and cosy rooms, the sheer beauty of the both-tended-and-wild gardens and parks, the superb food, the unbelievable wine list, the tip-top yet friendly service, the totally relaxed ambience - all add up to provide the ideal place for discerning guests. Add to that the beautiful and dramatic scenery of the Dartmoor National Park and you have the perfect location for a balanced mixture of exploration, leisure and pleasure.
Paul Henderson's applaudable policy of adding a totally reasonable mark-up to the wines on his vast list makes it both possible and sensible to order top wines with the food served at Gidleigh's Michelin-Two-Star restaurant. He charges £12-£30 above the replacement market price (as opposed to the customary 150%-250%). In other words, if you order a really expensive wine, say one that costs £150 on the market, you end up paying £180 to have this wine accompany your dinner...
We had three evening dinners there, each starring another outstanding wine. The fourth wine, the 1983 Hugel SGN, we kept drinking for three days with the desserts.

First Evening:


Roast quail with a ravioli of spinach and Parmesan, with braised celery, pea puree and light quail jus
Carpaccio-style pyramid of home-cured meat with cheese, olive oil and spices
1983 Cote Rotie 'La Mouline', Guigal
______
Lamb fillet and kidney in thick brown sauce with truffled potato puree
Roast breast of guinea fowl with Dophinoise, mushrooms stuffed with chicken liver, ham and thyme
______
Cheeses
______
Cherries with cherries-sorbet
Four variations on the orange theme
1983 Tokay d'Alsace 'SGN', Hugel



Second Evening:

Pan-fried marinated langoustine with tomato concassee, courgettes, salad and a langoustine tuile
Truffle risotto with wild mushrooms and Parmesan
1971 Vouvray 'Clos du Bourg', Huet
______
Lobster fricassee with spring vegetables and herbs (for 2)
______
Cheeses
______
Cherries with cherries-sorbet
Hot raspberry souffle with raspberry sorbet
1983 Tokay d'Alsace 'SGN', Hugel



Third Evening:


Truffle risotto with wild mushrooms and Parmesan
Ballottine of foie gras with green bean salad
1988 Barbaresco 'Sori San Lorenzo', Gaja
______
Organically-reared local sirloin steak with truffled potato puree
Roast Trelough duckling with goose liver, honey and spices
______
Cheeses
______
Apples mousse and apples sorbet
Rice pudding with strawberries and basil sauce
1983 Tokay d'Alsace 'SGN', Hugel




---
Cote Rotie 'La Mouline'		1983	Guigal

5/99. From the wine list $320 (price includes tax and service).
My first ever single-vineyard Guigal Cote Rotie. A Parker-100 wine that most people may just dream of tasting. I would never have opted for such an expensive bottle if it wasn't for the fact that just a few months ago I tried to acquire in auction the very same wine for the very same price and failed!...
COLOR: Very very dark color. Only slightly clearing towards the rim. Plenty of sediment left on the bottle.
NOSE: Immense and deep nose bursting out of the glass. Ripe forest fruits, spices, balanced wood tones and a myriad of rich secondary aromas. Just smelling this wine is an exceptional experience.
TASTE: Totally mouthfilling, a giant of wine on the palate. Complete, harmonious, strong yet delicate. Extremely concentrated chewy and full of winyness, yet smooth and unbelievably tasty.
LENGTH: Wonderful aftertaste that simply goes forever.
TEXTURE & BALANCE: A full bodied, two-carburetors wine that manages to feel smooth and delicate. Complex fruit, good acidity, fathomless winyness and some tannins are all almost totally integrated. Full throttle but so complete and harmonious one cannot think of a better balanced wine.
OVERALL: Extraordinary-plus!!!. A rare thing of beauty that is completely mature now. It will surely - in a few years - go the last fifty yards it still needs for the ultimate marks.

| | |
| --- | --- |
| MARK: 19.5/20. | BUY MORE? Yes (if I'm ever rich enough) |
---
Tokay d'Alsace 'SGN'		1983	Hugel

5/99. From the wine list $200 (price includes tax and service).
My love affair with Hugel 'Selection des Grains Nobles' is by now more than twenty years old. I rarely get to taste it, but when I do - it never fails to amaze me.
COLOR: Bold and promising beautiful gold color.
NOSE: Immensely rich and perfumed nose of pure honey with a touch of figs and citrus fruit. So deep and enticing it is hard to stop swirling and sniffing.
TASTE: Heavenly taste. Sweet of course but very fruity and unbelievably complex and multi-flavored. Smooth as oil with very pleasant acidity to accentuate freshness.
LENGTH: Never-ending and ever developing aftertaste.
TEXTURE & BALANCE: Full bodied, viscous, extremely well structured with fantastic grip and very 'round' edges. Perfectly balanced and with enough 'stamina' so that the last drop tasted exactly like the first one two days earlier.
OVERALL: Divine!!!. The ultimate dessert wine with nothing to be ashamed of compared even to the best Sauternes

| | |
| --- | --- |
| MARK: 20/20. | BUY MORE? Yes. |
---
Vouvray 'Clos du Bourg'		1971	Huet

5/99. From the wine list $110 (price includes tax and service).
The number of Loire wines I've previously had can be counted on one hand. I took this opportunity to taste one from Huet, the star producer of the Loire.
I know they make different kinds of wines from the Chenin Blanc grapes there. From completely dry, thru semi-sweet to the very sweet and even sparkling. With the dinner we asked for a dry example. When Steve, the superb sommelier, suggested the 1971 'Clos du Bourg' I was a bit surprised and somewhat worried. A 28 years dry white wine? Not to worry he assured us. You will not believe this is more than a 5-years-old child after you taste it...
COLOR: Full shining yellow.
NOSE: Very complex. Fresh vineyard aromas together with flowers, a touch of honey and even some moss tones.
TASTE: Bone dry with a sweetish touch. Multi-layers of flavors, mainly citrus fruits. Sharply acidic (perhaps a bit too acidic for the food...). Very refreshing.
LENGTH: Long but predominantly acidic aftertaste.
TEXTURE & BALANCE: Rich and complex with many qualities. Does not even remotely associates itself with an old dry white wine, let alone a 28-years one. Full of vigor and very special, yet the searing acidity detracts from the wine's otherwise perfect balance.
OVERALL: Superb-plus! A unique wine and a unique experience. Perhaps not the ideal accompaniment for lobsters and langoustines but a very special wine with its own style and message.

| | |
| --- | --- |
| MARK: 18.5/20. | BUY MORE? Yes. |
---
Barbaresco 'Sori San Lorenzo'	1988	Gaja

5/99. From the wine list $150 (price includes tax and service).
What a better way to finish our three-days visit at Gidleigh than with a mature Gaja Barbaresco?
COLOR: Dark red but with noticeable clearing around the rim.
NOSE: Very concentrated nose. Red and black forest fruits, 'foxy' (animal) elements with some vanilla and caramel.
TASTE: Harmonious and velvety smooth on the palate. Sweet ripe fruit, soft tannins, superb winyness, good acidity. Succulent and extremely tasty. Simply wonderful!
LENGTH: Medium-long but very pleasant aftertaste.
TEXTURE & BALANCE: Full bodied but not a blockbuster by any means. Smooth and harmonious with a perfect balance. Fully mature and a delight to drink.
OVERALL: Extraordinary!! The best Barbaresco I ever had. At its absolute peak now.

| | |
| --- | --- |
| MARK: 19/20. | BUY MORE? Yes. |
---
Reach Me?

yak@yakshaya.com
---
Copyright 1996-2003.
Jacob "Yak" Shaya.