9-Nov-2001

A couple of months ago we visited Ireland. There we were invited by Arthur and Jilly Porter to their home for an unforgettable wine and dinner party.
This weekend Arthur and Jilly were in Israel on a short business trip. This gave us the opportunity to try and reciprocate their wonderful hospitality.
We have invited over some of our best friends to join in the festivities. So, Amihai & Dafna, Oded & Nitza, Pietro & Migri and of course our guests of honor Arthur & Jilly, all joined us in what turned out to be one of the most stunning evenings we all can recall.
Dorit really outdid herself [how many times have I said that?] in preparing a sumptuous six-course dinner to match six of the greatest wines known to mankind...


Shrimps in cream and pomegranates
1996 Corton Charlemagne, Bonneau du Martray
______
Goose liver in mango salsa
1989 Gewurztraminer SGN "S", Hugel
______
Aubergine soup in light curry
1982 Chateau Cheval Blanc
______
Roll of beef filet in wine & herbs sauce
1988 Cote Rotie 'La Mouline', Guigal
______
Assorted Cheese Plate
1990 Musigny, Comte de Vogue
______
Nuts & Butter Crepes
1963 Vintage Port, Fonseca




The wines were probably the best possible representatives of their kind. The food was simply fantastic, and the atmosphere was convivial and relaxed. So for a few hours we all had a chance to forget the ugly times we live in and to enjoy three of the best things life has to offer - good wine, good food and good company.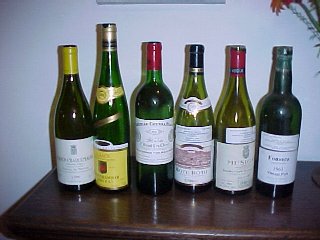 ---
| | | |
| --- | --- | --- |
| Corton Charlemagne | 1996 | Bonneau du Martray |
11/2001. Bought in auction Oct-99 for $80.
Bonneau du Martray certainly counts among the very best producers of Corton Charlemagne, the wonderful and distinctly structured Grand Cru white Burgundy. 1996 being probably the best vintage for white (B) in the 90s.
COLOR: Medium pale golden color.
NOSE: Pronounced minerally aromas with soft lemony tones. A bit closed at first but opened up in time to reveal a rich mixture of white fruits, steely 'wet stone' sensation, and the unmistakable composure of a great white Burgundy.
TASTE: Mouth-filling, super-structured wine of great depth and breadth. White fruits and mineral flavors with spicy tones. Majestic feel and excellent grip. Way too young and a long way from being fully mature, yet deliciously expressive even at 5 years from the vintage.
LENGTH: Really long aftertaste.
TEXTURE & BALANCE: Full-bodied, complex and very stylish. More minerally and steely than the buttery chewy expression of a good Meursault or Puligny. Good acidity add balance to the already highly focused wine.
OVERALL: Superb. An exquisite example of this wonderful wine. Will surly become even better in 4-7 years.
MARK: 18.5/20.aaaaaaaaBUY MORE? Yes.

---
| | | |
| --- | --- | --- |
| Gewurztraminer SGN "S" | 1989 | Hugel |
11/2001. Acquired from France Oct-01 for $100.
"Selection de Grains Nobles", SGN for short, is the rare super-concentrated botrytis-infected style originated in Alsace by Jean Hugel some decades ago. SGN is only made in extremely ripe years. But SGN "S" is an even rarer animal. While the 'normal' Gewurztraminer SGN is produced about three to four times in a decade, the "S" version had only been made once in the 90s, once in the 80s and once in the 70s. The 1989 vintage is probably the best in thirty years, rivaling the great 1976.
The 'normal' 1989 SGN had 17% potential alcohol and residual sugar of 67 gram/liter. The 1989 "S" had 22.5% potential alcohol with residual sugar of 153 gram/liter! Both ended up with about 13.5% alcohol.
COLOR: Deep full golden color. Extraordinary rich even by its looks alone.
NOSE: Super rich and deep nose. The unmistakable fresh vineyard and spices aroma of the Gewurz are wrapped by pronounced tones of honey and figs. The nose is immense and would in itself be a unique experience even if sniffing was the only thing one could do with this wine. But...
TASTE: Rich and concentrated beyond description. Extremely sweet of course but not for one moment does this wine lose its freshness and fruity flavors. It is never one bit heavy in spite of its richness body and structure. Each sip is a true experience from heaven.
LENGTH: Infinitely long delicious aftertaste following even the tiniest sip.
TEXTURE & BALANCE: Full bodied super rich sweet wine. Fathomless depth and multidimensional flavors. Fresh fruit and excellent acidity prevent this from becoming clumsy or heavy in any aspect. Beautifully crafted well balanced rare juice that is delicious now but will live forever.
OVERALL: Divine!!! Hard to think of a better nectar.
MARK: 20/20.aaaaaaaaBUY MORE? Yes.

---
| | | |
| --- | --- | --- |
| Chateau Cheval Blanc | 1982 | St. Emilion |
11/2001. Bought at auction Mar-95 for $260.
Almost seven years ago I bought two bottles of the much hyped 1982 Cheval Blanc. I have opened one for my 50th birthday almost four years ago and must admit I was not duly impressed. It was a good wine as I remember, but somewhat disappointing, especially for its reputation and price [which have more than doubled since then].
Let's see if anything changed for this wine since I last tasted it.
COLOR: Medium violet red, some brown hues are apparent as well as noticeable clearing around the rim.
NOSE: Really fine elegant nose of red fruit without the cedar and pencil-tip elements of the heavier 'Bordeaux Nose' wines. The nose is fragrant yet opulent, expressing breed and nobility.
TASTE: Very impressive on the palate. Mature fruit with a touch of sweetness. Multi-flavored, stylish and focused. Mature, round and beautifully delineated, with no harsh edge whatsoever. Soft and brooding and demanding respect, but not as delicious [at least to my palate] as a great Burgundy or a Rhone wine can be.
LENGTH: Very long and complex aftertaste attests to the high class of the wine.
TEXTURE & BALANCE: Medium-full bodied wine of extremely elegant proportions. Semi ripe fruit, complex flavors, receding tannins and nice acidity combine to present a perfectly balanced wine. Fully mature now but will last.
OVERALL: Outstanding! Better than the bottle we had four years ago.
MARK: 19/20.aaaaaaaaBUY MORE? Maybe.

---
| | | |
| --- | --- | --- |
| Cote Rotie 'La Mouline' | 1988 | E. Guigal |
11/2001. Bought at auction Feb-00 for $400.
What more can be said about those Guigal single vineyard Cote Rotie? That they are incredibly concentrated wines of immense depth and pure flavors? That they are the most enticing flamboyant blockbusters imaginable? That their price tags are unbelievably outrageous? All that and more is true...
COLOR: Very dark purple. Hardly noticeable clearing around the rim. Plenty of sediment.
NOSE: Wonderful concentration of red fruit, black pepper and clean earthy aromas, with soft vanilla tones engulfing them. Only partially forward, the nose is so deep and rich, you almost don't need to sniff - it sprouts out of the glass on its own...
TASTE: Seductive winey nectar that is loaded with fruit and spices. Semi ripe (fruit) at this point with hints of sweetness. Massive and vigorous yet elegant, this is a mouthfilling wine if there ever was one. Tannic but not overly so, with good acidity for balance. Obviously still very young but deliciously tasty even now.
LENGTH: Extremely long and elegant aftertaste that lingers.
TEXTURE & BALANCE: Full bodied wine of huge proportions. Super-concentrated with gobs of fruit and flavors. A big extravagant wine that never feels heavy. Complex and deep this wine is perfectly balanced with round tannins and fine acidity.
OVERALL: Extraordinary!! Sublime now but will probably reach the ultimate stage in 3-5 years.
MARK: 19.5/20.aaaaaaaaBUY MORE? Only if NASDAQ gets back to 5000...

---
| | | |
| --- | --- | --- |
| Musigny | 1990 | Comte de Vogue |
11/2001. Bought at auction May-96 for $220.
"Musigny", "Comte de Vogue" - the sound of these names alone conjure images of rare aristocratic ethery nectar of the utmost style and elegance. The 1990 vintage in Burgundy is rightly reputed to be the best in more than thirty years. Now what the combining of this vineyard, vintner and vintage is capable of bringing out?
COLOR: Medium dark ruby red with thin clearing towards the rim.
NOSE: Explosive aromas of red forest-fruit and wild flowers with earthy meaty yet clean 'Bourgogne Nose' that is so enticing one can hardly stop sniffing. So deep and complex it represents all that a truly great (B) has to offer. Absolutely intoxicating.
TASTE: Wonderfully tasty multi-flavored and multi-dimensional wine. Smooth and velvety as the finest silk. Elegant and delicate wine but with firm stylish backbone. Extremely complex flavors with plenty of winyness, round tannins and fine acidity. On the palate it is still not completely forward but it is nevertheless incredibly delicious.
LENGTH: Very very long and reverberating aftertaste.
TEXTURE & BALANCE: Medium-full bodied wine with the hallmark of the ultimate Burgundy. Enticing fruit, deep and complex flavors, fragrant and delicate yet well structured and focused with an excellent grip. Wonderfully balanced too. In a few years, when everything is fully integrated and harmonized, I have little doubt this will become a classic 20/20 (B).
OVERALL: Extraordinary!! Drink it now if you can't wait a few more years, but wait a few more years if you can.
MARK: 19.5/20.aaaaaaaaBUY MORE? Yes.

---
| | | |
| --- | --- | --- |
| Vintage Port | 1963 | Fonseca |
11/2001. Bought at auction Feb-00 for $300.
Many years ago this 1963 Fonseca was in fact the first serious vintage port I have ever tasted. I was immediately taken captive by its richness and complexity. Only later I found out that this specific port is widely considered to be among the very best ever produced.
COLOR: Very dark red-black with some orange hues that add complexity to the appearance. Huge amount of sediment.
NOSE: Majestically rich with pronounced notes of chocolate oranges and spice. Deep complex aromas that by now are completely harmonized. Heaven!
TASTE: Sweet robust flavors yet so elegant and smooth. Fully matured but without a hint of age. Deliciously explosive on the palate with wonderful acidic undertones that cut through the sweetness.
LENGTH: Infinitely long and super-tasty finish.
TEXTURE & BALANCE: Full bodied of course. Grandiose structure with infinite finesse. As rich and complex as one can imagine, but a more harmonious and balanced wine is simply inconceivable. A true gods' nectar!
OVERALL: Divine!!! Probably at its absolute peak now.
MARK: 20/20.aaaaaaaaBUY MORE? Yes.

---
Reach Me?

yak@yakshaya.com
---
Copyright 1996-2003.
Jacob "Yak" Shaya.