---

25-August-2001
An Irish Feast
Arthur Porter is an Irish wine lover with whom I have had some virtual exchanges in the past.
When he heard we are coming to visit Ireland, he immediately suggested that we make the trip to his remote neck-in-the-wood for an intimate dinner party he and his wife Jilly will throw in our honor. [in other words: will I serve as a proper excuse for opening some really fine wines...].
The Porters live in the small village of Carrigans, County Donegal. Still in the Republic, but five minutes across the river from Londonderry in Northern Ireland.
They live in a beautiful 250 years old house, which foundations are of much older origins.
They invited over two other couples so we were eight people for dinner, which made the evening lively cosy and informal. Jilly prepared an elegant typical Irish feast, all from fresh local products.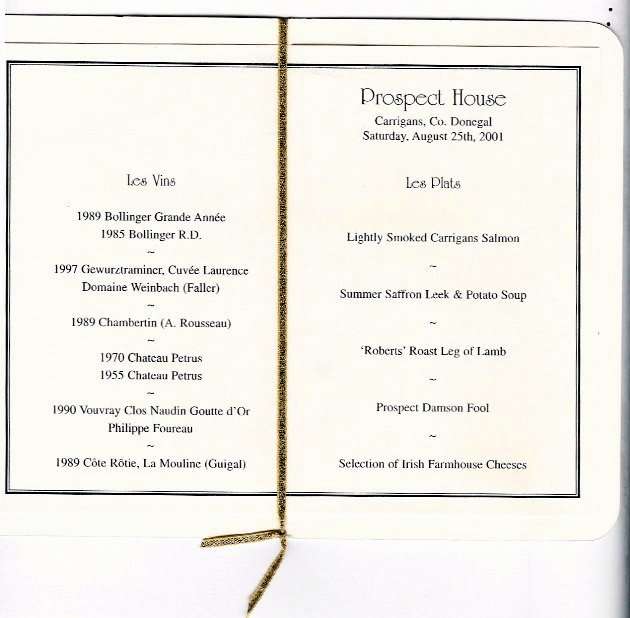 The food was excellent. Not only was everything extremely tasty, but the attention Jilly devoted to every detail was very apparent and significantly contributed to the overall harmony of the evening.
The company, conversation and atmosphere were indeed pleasant cosy and befitting the great wines that we had.
Speaking of which... The lineup Arthur came up with is the most exalted one imaginable. It is certainly among the very best [if not the very best] I ever had the good fortune to taste.
Not only were these wines of stratospheric pedigree generously picked by Arthur from the depth of his cellar, but they all matched the food beautifully to bring out the most harmonious combination one can think of.

My heartfelt thanks to Jilly and Arthur for staging such a memorable evening, even if we were only the excuse... :)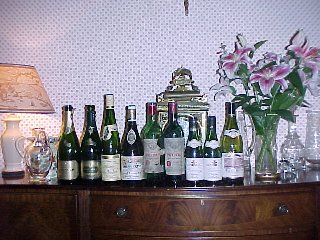 1989 Bollinger 'Grande Annee' - I am not a champagne connoisseur, but this vintage champagne was lovely. It is 2:1 Pinot-Noir/Chardonnay blend that gives a nice dry winey feel with light touch of oak.
Superb. MARK 18.5/20.

1985 Bollinger 'RD' (Recent Disgorgement) - This one felt even more complex, with yeasty bisquity quality to the nose, dry but fruity taste, and a nice lingering finish.
Outstanding! MARK 19/20.

Domaine Weinbach, 1997 Gewurztraminer 'Couvee Laurence' - One of the best producers in Alsace, in style somewhere between the austere and crisp Trimbach and the very rich Zind-Humbrecht. This Gewurz has wonderful vineyard aromas. Though not completely dry, it is light spicy with clean taste and nice acidity for balance.
Very Fine. MARK 18/20.

A. Rousseau, 1989 Chambertin - One of the best wines on earth from its best producer and an excellent vintage that matured relatively early. Wonderfully complex nose with all the trimmings of a fine mature Burgundy. Rich and succulent on the palate with fragrant delicacy and complexity. Fruit is still there as is the structure, the complexity and the perfect balance.
It might lack the concentration and power of the 1990, but this still a truly great (B).
Extraordinary!! MARK 19.5/20.

1955 Ch. Petrus - This [or the next wine] is my really first Petrus. I have had a sip here or there in the past, but this is the first time I had a full glass - actually two, as the two Petrus were served side by side all through the main course - to delve into at my leisure.
Well, I must say this 46 years old wine tasted like a 46 years old wine... Not spoilt or bad, not even tired or dried up. Not at all! Just and old wine, delicate and smooth as silk, but a wine whose most apparent quality is its age. Soft fruitless nose, creamy laid-back taste. Certainly an interesting experience but I can't say I was knocked dead.
Very Fine. MARK 17.5-18/20.

1970 Ch. Petrus - First and foremost, this 1970 Petrus is a completely different wine from the 1955. And I am not referring to the 15 years age difference between the two! While the Petrus 1970 is almost 100% Merlot, the 1955 has, according to Arthur, a significent Cabernet Franc influence, perhaps as much as 20%. They are two different wines, And they differ in every aspect I can think of. From the spectrum of aromas to the flavors complexity and depth of the taste.
This 1970 is a huge wine. Still very young in appearance with remarkably expressive nose of tobacco, pencil-tip, truffles(?) and dense black fruit backdropped by lots of oak. On the palate there is vigor and plenty of winyness and concentration, but I was hard-pushed to find the fruit. An impressive 'awesome' wine no doubt, but [at least to my humble palate] not as tasty as I have expected.
Outstanding! MARK 19/20.

Foreau, 1990 Vouvray 'Clos Naudin' Goutte d'Or - This dessert wine is only made in exceptionally good vintages. With notes of apricot and rhubarb on the nose, it is rich and mouthfilling beyond belief. A full-throttle sweet thing that reverberates in the mouth from start to finish and then some. If it only had a bit more acidity it would be perfectly balanced too.
Outstanding! MARK 19/20.

Guigal, 1989 Cote Rotie 'La Mouline' - Outside the realm of Burgundy there are no wines I enjoy so much as Guigal's single vineyards Cote Roties. And La Mouline above them all. Intense dream-like nose of black fruit, flowers and spice. Plenty of oak that is fully and seamlessly integrated. Tons of opulent fruit on the palate with deep winyness and stylish elegance. Full bodied and thick-textured wine that is perfectly balanced.
What a treat to finish such a wonderful lineup with such a wonderful wine.
Extraordinary!! MARK 19.5/20.

---
Reach Me?

yak@yakshaya.com
---
Copyright 1996-2003.
Jacob "Yak" Shaya.