---
Dorit's 50th Birthday

19-November-98

Apart from wine, bridge (the game) is my other passion. Since Dorit's birthday coincides with the annual Red-Sea Bridge Festival in Eilat, we celebrated the 'important' milestone together with six of our bridge player friends at a wonderful restaurant in Eilat ("La Coquille").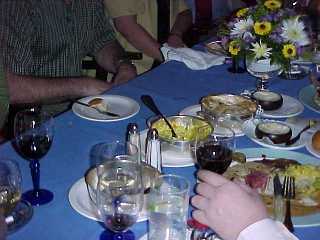 Four of these friends we know well for years, but two of them were only 'virtual' friends till we finally met with them in Eilat. Both Pietro (an Italian living in London) and Rob (an American living in Stockholm) are regular players at OKBridge, the ultimate online Bridge Club, which we are all members of.

| | | |
| --- | --- | --- |
| 'Stel' & 'Srul' | 'Migry' & 'Blueclub' | 'Ruti' & 'Rob' |
These are our user-names on OKBridge...

I brought some bottles with me from Tel-Aviv, but Rob - who is also a wine buff on top of his bridge interest - brought some bottles with him all the way from Sweden.
All we told the restaurant owner in advance is that we intend to bring our own wines. When we got there I told him we are celebrating my wife's birthday. Since we had with us a respectable amount of very good but diverse wines, I asked Robert (the owner) if he could improvise a 'degustasion' dinner that will enable us to taste and enjoy the different wines.
This is what materialized over more than four hours:



Baby Calamari in garlic and lemon sauce
1993 Sonoma Chardonnay 'Estate Bottled', Gallo
______
New-Zealand Mussels with 'Armorican' concoction
______
Grilled Crab, stuffed with its own meat and shredded shrimps
1988 Vosne-Romanee 'Les Beaux-Monts', Dom. Leroy
______
Shrimps 'Robert' - with chopped almonds, raisins, mushrooms and spices in a delicate cream sauce
1989 Chateauneuf du Pape 'Chateau de Beaucastel', Perrin
______
Fillet steak in three sauces
1975 Cabernet Sauvignon 'Martha's Vineyard', Heitz Cellars (en magnum)
______
Omelette Norvege
1990 Johannesburg Riesling 'Late Harvest', J. Phelps
1972 Tokay Aszu '6 Puttonyos', Oremus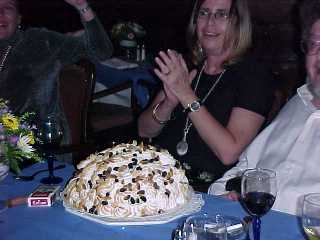 Most of the time we had this intimate restaurant all for ourselves. As the evening progressed the pianist warmed up and so did we. I am not sure the neighbors loved our loud singing, but we sure did. The truly exquisite food, the fantastic wines, the excellent service, the ambiance of the place, the good mood we were in - all contributed to a really wonderful evening that everyone will remember for a long time.

---
Sonoma Chardonnay 'Estate Bottled'	1993		Gallo
11/98. One of Rob's wines. Two bottles of this accompanied the first two dishes.
Nice fruity nose, a bit of the fruit-cocktail type, with discernible oaky tones. Clean and tasty on the palate. Medium bodied and very pleasant. Excellent!
MARK: 17/20.aaaaaaaaBUY MORE? Maybe.

---
Vosne-Romanee 'Les Beaux-Monts'		1988		Dom. Leroy
11/98. My fifth bottle of this amazing wine. Profound nose of fresh cherries and pure 'Bourgogne Nose'. Mouthfilling combination of delicacy and complexity. Fantastic balance between fruit, alcohol, acidity and tannins. Went beautifully with the grilled crab. Superb-plus!!
MARK: 18.5/20.aaaaaaaaBUY MORE? Yes.

---
CdP 'Chateau de Beaucastel'		1989		Perrin
11/98. This titan of wines never cease to amaze me. A myriad of scents, from black forest-fruit to pepper and other spices. A complexity of flavors that must leave any wine lover in search for words. Amazing grip, finish and length. A truly remarkable wine, as rich as the "Shrimps 'Robert'" it accompanied. Extraordinary!!!
MARK: 19/20.aaaaaaaaBUY MORE? Yes.

---
Cabernet - Martha's Vineyard		1975		Heitz Cellars
11/98. The jewel in the crown of wines that Rob brought. This 23-years-old magnum is probably the best bottle of Cabernet I ever tasted. Beautiful black-currants nose with some mint tones. On the palate, an unbelievable harmony of smooth, mouthfilling vinous pleasure. Fully mature though not a bit tired. Delicate and mellow on its own, but a pairing made in heaven with the fillet steak. Extraordinary-plus!!!
MARK: 19.5/20.aaaaaaaaBUY MORE? Yes.

---
Johannesburg Riesling 'Late Harvest'	1990		J. Phelps
11/98. Another of Rob's wines. The nose had a slight off scent that wouldn't go away. Either 'not yet' or 'not anymore', alas this wine was the least appealing of all that we had. Along with the Tokay it accompanied the elaborated "Omelette Norvege". Only Good...
MARK: 16/20.aaaaaaaaBUY MORE? No.

---
Tokay Aszu '6 Puttonyos'			1972	Oremus
11/98. Another of Rob's wines. A short while ago I had a 1975 '5 Puttonyos' Tokay made by the same firm that was pretty disappointing. This bottle however was everything one should look for in a mature Tokay. Extremely concentrated, deep and rich, sweet yet with enough (citric) acidity to make it feel fresh. Superb!!
MARK: 18/20.aaaaaaaaBUY MORE? Yes.

---
Reach Me?

yak@yakshaya.com
---
Copyright 1996-2003.
Jacob "Yak" Shaya.