---
Yak & Dorit hit New Orleans
April-2000

Long tiring (though we flew the comfortable 'Business-First' of Continental Airlines) same-day flights took us from Tel-Aviv to New Orleans. Our hotel, the Chateau Sonesta, wonderfully situated in the French Quarter, turned out to be a pretty good Hotel though nothing good (or bad) to write home about.
Tired as we were, we would not give up on a late night taste of the famous Bourbon Street. The never-ending colorful crowd, music, clip-joints of all sorts and shapes, eateries, bars, and the unavoidable huge 'Hurricanes To Go' - all are the staple of this and the neighboring streets.
We spent three full days in charming New Orleans, never really venturing outside the French Quarter. Savoring the street scenes and the beautiful balconies, exploring the stunning Aquarium of the Americas with its hoards of sea monsters, taking a mildly boring but pleasant boat cruise up the Mississippi river, and doing an extremely interesting swamp tour on a sort of a floating tin boat.
Although a bit more touristic than authentic, the city has a real joie de vivre atmosphere about it. Music is everywhere and we have enjoyed good jazz every evening after dinner.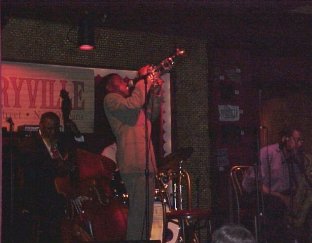 Here is where and what we ate and drank in New Orleans: Cajun, Creole and other... (all dinners are for two)
---
Dominique's
A very elegant and cosy restaurant. Dim lights, excellent service, beautifully presented and extremely tasty food. Rich wine-list too.



Duck prosciutto with artichoke hearts
Raw fillet cubes with soy sauce on a bed of cucumbers
Sweetbread on sugarcane 'skewers' with puree and mushrooms (fantastic!)
Beef fillet stuffed with cheese and roshti potatoes
Coffee-flavored 'tira mi su'
Lemon tart



1988 Dominus - Deep garnet color, clearing somewhat towards the rim. Plenty of sediment. Wonderful nose of mature fruit, chocolate, flowers and oak. Delicate and elegant on the palate. Smooth and velvety. Concentrated but not "thick". Lovely long finish.
Superb! MARK 18.5/20.

A top restaurant in every respect. Highly recommended!


---
Antoine's
Old and very famous establishment in New Orleans. The restaurant is huge with many rooms of different style and decor.
Perhaps at one time this was a good restaurant. Today it isn't... The food is boring though not un-tasty (heavy butter and cream-based sauces everywhere), the service mediocre at best, and the whole place seems to be living on its past reputation.



Oysters Rockefeller
Shrimps in wine sauce
Crab meat 'au gratin'
Soft shell gray crabs
Peach Melba




1996 Clos des Mouches (blanc), J. Drouhin - Light, greenish-tinged color. Fruit, metal and minerals on the nose. Young, acidic and a bit unripe on the palate. Not particularly balanced. Still, a nice wine.
Good-plus, MARK 16.5/20.

The food was ok, but far from exciting. All in all a mild disappointment. Not recommended.


---
Alex Patout
A nice looking but no-nonsense place as far as decor or ceremonials are concerned. The food, on the other hand, is absolutely fantastic!



Shrimps stuffed with crab meat
Crab wanton
Three soups tasting: crab & corn, fish gumbo, duck & noodles
Mildly hot rabbit stew with rice and sweet corn (delicious!)
Duck accompanied by liver, sweet potatoes and nuts



1997 Chardonnay 'Estate', Beringer - Full golden color. Quite profound on the nose, more minerally than the expected tropical fruit. Pleasant and smooth on the palate. Multi-layered but not especially concentrated. Medium length and good balance.
Fine, MARK 17.5/20.
1996 Cabernet Sauvignon, Stonestreet - According to the label this Alexander Valley wine is made of 88% Cabernet Sauvignon and 12% Cabernet Franc.
Deep ruby color with little clearing around the rim. Very ripe and pungent nose, wood or even wood sap predominates. Lots of wood and overripe fruit on the palate. Very special wine though it seems someone tried here a bit too much...
Very Fine, MARK 18/20.

An excellent restaurant where food quality reigns. Recommended


---
Reach Me?

yak@yakshaya.com
---
Copyright 1996-2003.
Jacob "Yak" Shaya.