---
Green and peaceful Ireland
August-2001


Following an amazing visit to Iceland, we flew to Dublin for a week in Ireland.

Our short visit to Ireland can be divided into three parts:


Dublin.

Ashford Castle and the west country.

Meeting with Arthur Porter at his home for an unforgettable Irish Feast.

---
Dublin
In Dublin we stayed at the Hibernian. A hotel that belongs to the "Small Luxury Hotels of the World" association. I have, till now at least, always enjoyed staying at its member hotels. But this time I must say we were a bit disappointed. Tiny, uncomfortable room, really inefficient service (especially at the reception) and stuffy formal restaurant, even for breakfast.
But there's more to Dublin than the hotel we stayed in...
I can't say that Dublin is the most beautiful city I have been to. Not ugly or charmless, but neither is it Paris, Sidney or Stockholm. At times Dublin appears to be something like "London B". But - and that is a crucial "but" - Dublin is a lively city! Easygoing and bustling with people, yet never it feels crowded.
Contrary to what we were told to expect, we had a beautiful weather during our entire stay in Ireland. So I guess the blue skies drew more people into the streets.
We did all the major tourist attractions, including Christ Church Cathedral, Dublin Castle, Connought Street, St. Stephan's Green and Trinity College. If there's one thing that is almost worth a trip to Dublin from abroad it is the "Book of Kells" museum at the Trinity College complex. This museum displays and explains the relics of the beautiful 9th century illuminated manuscripts in such a fascinating way it simply a must. But you have seen nothing until you went up to the "long hall" on the upper level. A wood-paneled very long library, holding 200000(!) volumes of old and ancient books. All are there, within easy hand reach, neatly stashed in ceiling-high double-shelves, ready for a student or a professor to ask for. A truly amazing sight!
But the real fun was simply strolling the busy streets and the bustling pedestrian-streets that are the heart of the city. Have a cappuccino in a nice cafe, a pint of Guiness in a famous pub, watch people and eat and drink well.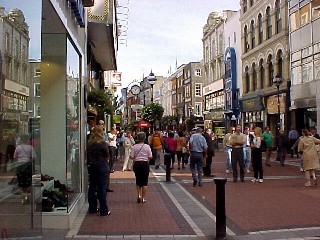 Pedestrian street in Dublin


Wining and dining possibilities in Ireland are excellent. I'll mention some of the better places we have sampled.

Dobbins- A very 'in' bistro-like restaurant. Full of atmosphere, crowded and bustling, good pianist, excellent food and an impressive wine list.



Scampi Fritti
Terrine of rabbit and goose liver
_______
Duck in apple sauce
Fillet of young lamb
_______
Irish Coffee


1989 Ch. Figeac - Somewhat palish color. Pleasant pure 'Bordeaux Nose' without the cedar element. Very smooth and noble on the palate. A wonderful St. Emilion. Superb! MARK 18.5/20
Highly Recommended!

La Stampa - Nicely decorated restaurant, quieter and less crowded than Dobbins, but very good food.



Fried scampi in hot and sour sauce
Tortellini cheese and spinach
_______
Lightly sauteed scallops
Superb veal liver



Recommended

Guinea Pig - A stylish fish restaurant in Dalkey, a south-eastern suburb of Dublin. The decor is nice, the service is good and the dishes enormous.



Crab and cheese cake
Big bowl of mussels in wine sauce
_______
Huge lobster Thermidor
Scallops and shrimps in olive oil and garlic
_______
Ice cream


Dom. Regnard, 1990 Chablis Blanchot - An 11 years old Chablis Grand Cru. Rich minerally and white-fruit nose. Full, mature and deep on the palate, with a definite touch of honey at the finish. Outstanding!! MARK 19/20
Recommended!

---
Ashford Castle
Ashford Castle is a 750 years old castle turned into a luxury hotel. It stands majestically near the village of Cong, overlooking Lake Corrib in the west country of Ireland.
We stayed at this fairy-tale palace for two nights and have enjoyed every bit of what this immorally-expensive dream has to offer.
The exterior is very impressive as you can see, but the public areas inside the castle and our own magnificent room are simply unbelievably astonishing!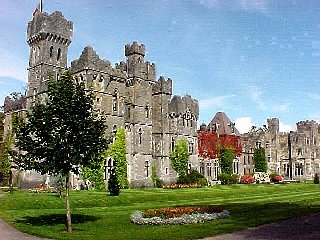 Ashford Castle


Beautiful wood-carving all over the place, with original oil panitings hanging everywhere. This is a very expensive place to stay in, but one thing is obvious - they don't spare any effort to make the hotel look and feel like a real royal palace.
But walls carpets and paintings don't make a good hotel. What does is good attentive service, genuinely helpful staff, and the ability to make one feel his comfort and well-being are of prime concern and importance. And here is where Ashford Castle really excels. From attention to the tiniest detail of comfort, to the out-of-the-way efforts to make our stay enjoyable, this hotel deserves its inclusion on the short list of the best 50 hotels in the world.

The Connought Room - One of the award-winning restaurants at Ashford Castle. Elegant but not stuffy, with Robert the friendly Maitre d' adding to the pleasant ambiance.



Corrib Lake smoked salmon
Coated shrimps in excellent sauce
_______
Slices of duck
Sublime grilled lobster
_______
Alaska Bomb


J. Faiveley, 1988 Chambertin Clos de Beze - Wonderfully ripe 'Bourgogne Nose'. Fully mature, complex, delicate and smooth. Extremely tasty with very long finish. Superb! MARK 18.5/20
Recommended!


Both nights after dinner we went down to the "Dungeon" of the castle where, in cosy atmosphere, Irish folk songs were performed and passages from Irish literary stars like Bernard Shaw and Yeats were recited.
But it is not only Ashford Castle that is beautiful. The whole area is a combination of post-card picture of lakes rivers and forests, and misty shades of green around every corner and hill.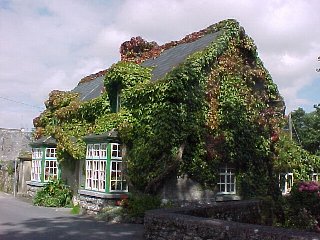 A house in the village of Cong


We took a two hours boat ride on the lake, strolled the colorful Cong village near by, rested a bit and drove for dinner to a place called Mac's in Cornamona, some 30 minutes drive from Ashford Castle.

Mac's - A shocking-yellow looking restaurant by Lake Corrib, where the food [prepared I understand by a new French Chef] is far better than the humble appearance of the place.



Lightly coated shrimps (divine!)
Smoked salmon
_______
Slices of chicken and beef fillet, cooked in vegetable stew and served on a bed of white rice (delicious!)
Pan-fried place fish with mint


Relatively simple place but Highly Recommended!


---
An Irish Feast chez Arthur Porter
Click to read all about it
---
Reach Me?

yak@yakshaya.com
---
Copyright 1996-2003.
Jacob "Yak" Shaya.