---
Wine weekend at Gidleigh Park
11-13 March 2004


Gidleigh Park in Devon England is among my favorite hotels in the world.
The beauty of the place and it surroundings, the exquisite rooms and public areas, the perfectly professional yet extremely friendly service, the fantastic food and the unbelievable rich and reasonably priced wine list - all these and more made us stay there a few times in the past.
Michael Caines two Michelin stars Gidleigh Park restaurant is in itself worth sampling. Even if you don't reside there.
Now add to this a whole weekend devoted to the finest Alsatian and Burgundy wines to be hosted by Steven Spurrier and the lure for me was too much to resist...

So, in spite of the exorbitant cost, Dorit and myself decided to go for it. We flew to London on Thursday, March 11th 2004, took a car at Heathrow and drove directly for three and a half hours to reach Gidleigh Park around 6pm. The 'formal' wine weekend was not to begin until the next day, but we wanted to give ourselves an extra day at Gidleigh.

Here are a few pictures that illustrate the beauty of the place.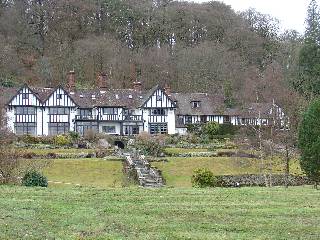 Gidleigh Park


The weather was not particularly nice. Snowing and raining for much of the time, with short spells of sunshine that enabled us to take some strolls within the estate.


| | |
| --- | --- |
| Manicured garden | A wild stream |

The inside on the other hand, is always warm and inviting.


| | |
| --- | --- |
| Cosy sitting room | A corner to contemplate |

Thursday evening we had a fantastic dinner en deux with excellent wines.
The 'proceedings' began on Friday evening, when 10 couples from as far as Israel, Cayman Islands and the south of France joined some Brits for a most fabulous wine weekend.
Friday night dinner with wines from Alsace and the Cote de Beaune.
Saturday morning amazing vertical tasting of the fabled Riesling 'Clos St. Hune' by Trimbach.
Saturday light lunch with a most interesting 'theme': Minor Burgundies from superstar producers.
Saturday night gala dinner with some of the best 1990 red Burgundies one can dream of.

Steven Spurrier, the well known English wine consultant and writer, hosted the weekend with flare, knowledge and good humor. The atmosphere was cosy, informal and most enjoyable throughout.
And the wines... Some of them [and I don't mean one or two] were among the very best of their kind I have ever tasted.

Follow the links here to read what it was all about...